Nicaragua offers the most peaceful and relaxing land, sea, river, lake and scenic places and destinations that any visitor can aspire to. But if you are a lover of strong emotions, you will also find here a wide range of opportunities whose limits are dictated by your imagination, on a scale that goes from moderate to extreme.
Among the Adventure activities we can mention: sand boarding in active volcano, canopy, kayak, sun and beach, surfing, observation of turtle nesting, sailboats, diving, hiking, trekking, rappelling, sport fishing.
Nicaragua, a piece of heaven on earth, rich in tourist attractions that offer exciting experiences when you enter the seas, lakes, mountains and volcanoes that make it up.
Positioned as a destination for adventure tourism, Nicaragua offers us countless options to test our adrenaline.
From this variety we have chosen the main must-see activities for anyone who has an adventurous heart, for this you only need company, if you prefer it that way.
Surf
For those who enjoy the taste of the waves, in Nicaragua we have the best in Central America, most of them located in the department of Rivas and León. In the coastal area of ​​our Pacific we can locate the most spectacular surf spots: Puerto Sandino, Popoyo, Colorado, Aserradores and San Diego.
They are perfect for amateur and experienced surfers. Perfection is defined by the formation of its waves, the temperature and the excellent winds that allow the surfer to make excellent parades or tubes.
sanboarding
It consists of sliding over sand hills on top of a table, in Nicaragua we can practice this extreme sport in the Cerro Negro volcano.
The colossus is located in the city of León, it allows adventurers to glide over the black sand on a board that will descend approximately 728 meters in height in less than 10 minutes.
Canopy
If you are not afraid of heights, this option is for you! Canopy is a sport that consists of moving certain distances in the air, only with protective equipment attached to the body and thick ropes that are held from one tree to another.
You can do this extremely extreme activity on the Mombacho volcano in Granada, also in La Brellera in San Rafael del Norte, Jinotega, on El Calvario hill and La Luna waterfall in Matagalpa and in San Juan del Sur.
Kayak
For those who opt for lakes and rivers, the kayak offers a better perspective to know and explore the water that we navigate, you can better appreciate marine life, in addition to the trip that allows you to meditate, delve into yourself and have direct contact with the nature.
In Nicaragua it is a privilege because to practice it we must visit the great Lake Cocibolca, specifically in the islets of Granada, the mighty San Juan River and on the only island in the world that has two volcanoes in a freshwater lake, Ometepe Island.
Cycling
For this adventure we need good physical resistance, strength in your legs and a bicycle, with these three elements you can travel to any corner of our blessed and always beautiful Nicaragua, to help you we recommend two ideal places to practice this sport.
Cerro El Arenal Reserve, Matagalpa, a place with a pleasant climate and a variety of trails, and the municipality of El Crucero in Managua, which also has a pleasant climate, as well as leafy valleys that will take you to incredible views.
Diving
Nicaragua has some of the best preserved and remote diving spots in the world, in addition to the diversity of options to practice this sport.
One of the most preferred for those who wish to venture is found in Little corn island, which presents a multicolored treasure under the waters of Blowing Rock beach, where you can also swim with dolphins, sharks and rays, along the 12 km stretch of reefs in the Caribbean Sea. In addition to this, the reefs offer spectacular images for snorkeling.
For shark seekers, Shark Hole is a network of tunnels and swim-throughs under the reef, home to blacktip, bull and reef sharks.
For those looking for another type of diving, Nicaragua offers freshwater diving in the volcanic crater lakes of Laguna de Apoyo and Xiloá. This is for more experienced divers and it is possible to see non-traditional fish species endemic to this type of ecosystem.
Sport fishing
Nicaragua is gaining ground as the best destination for sport and recreational fishing in Central America, due to the variety of species.
Río San Juan It has become an important destination for adventure tourism, among the most outstanding is sport fishing, which is a world-class adventure. At present, sport fishing is one of the main activities within the tourist offer of the Río San Juan destination.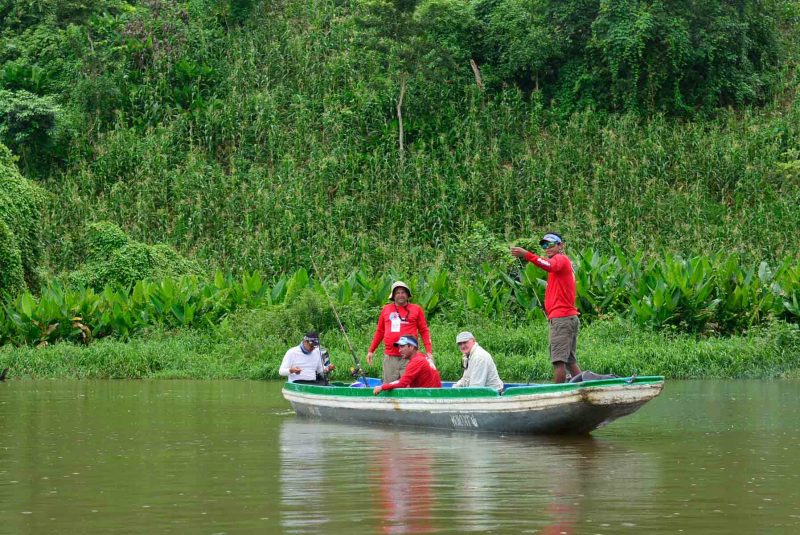 This activity has resumed a great boom in recent years and it is easy to see tourists practicing this sport at any time. In this department, fishing tournaments are held in San Miguelito and Solentiname in May, in El Castillo in July, San Juan de Nicaragua does it in September as well as in San Carlos, the latter being the most relevant.
In order to protect the fish, sport fishing throughout the area is strictly regulated, under the "catch and release" modality is a requirement for tarpon fishing.
Another destination that offers this sport is San juan del sur leaves without a doubt a memorable experience. Fish such as sword, sail, dorado, wahoo can be caught close to shore, while deeper waters offer fish such as saw, jack, bonito, barracuda, snapper and trout. The best time to do it is in the rainy season (from May to October/November).
Also destinations such as Chinandega, La Penitas (Leon), Corn Island y Pearl Lagoon offer this sport.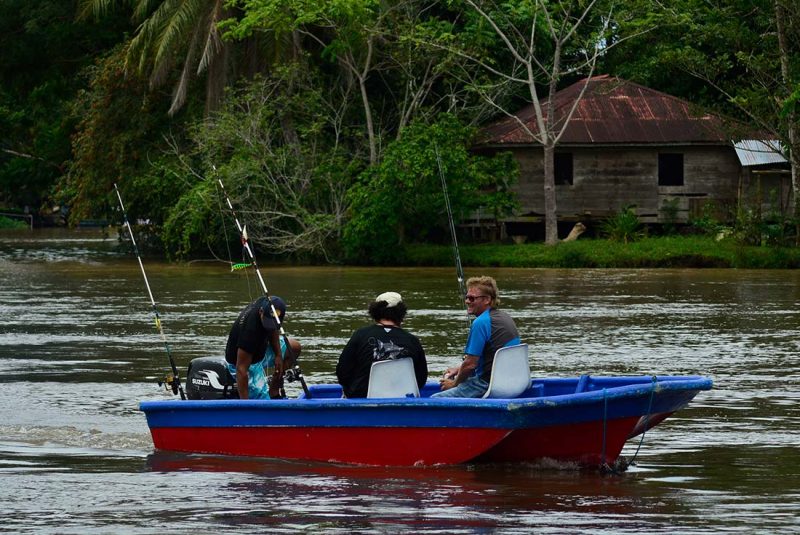 Sighting of turtles
On some of the Nicaraguan beaches, both in the Pacific and the Caribbean, we can find five of these seven species of turtles: green, tortoiseshell, lute or tora, bighead. Nicaragua is one of the few places in the world where sea turtles arrive en masse to lay their eggs, quite a spectacle!
One of the beaches where the largest arrivals take place each year is the The Flower Beach, in the south of the country, on the Pacific coast, which has become a Refuge that is monitored so that the environment remains virgin, and ensure that the ecosystem is not altered. Every year up to seven massive arrivals take place between the months of July and January. Around 16.000 endangered turtles arrive at La Flor.
Another site recognized for receiving massive arrivals of sea turtles is chacocente, located in the department of Carazo, and like La Flor is a wildlife refuge.
The Nicaraguan Caribbean has a very rich biodiversity. Along its coast, islands and keys there are coral reefs, seagrass beds, algae and an impressive aquatic fauna, including 4 of the 7 species of sea turtles that exist in the world: the Green turtle, the Hawksbill, the Cabezona and the Lute. Although in the Pacific of the country the turtles only come to lay their eggs, in the Caribbean they are part of the ecosystem and they are commonly observed in the crystal clear blue water.
Recall
Nicaragua has a wealth of scenarios to carry out this type of activity, especially in the north where mountain ranges, waterfalls or ideal places for descent stand out, although it is not yet very developed.
El Somoto Canyon It is located about 14 kilometers west of the city of Somoto, departmental capital of Madriz, part of the recently declared Geopark by UNESCO.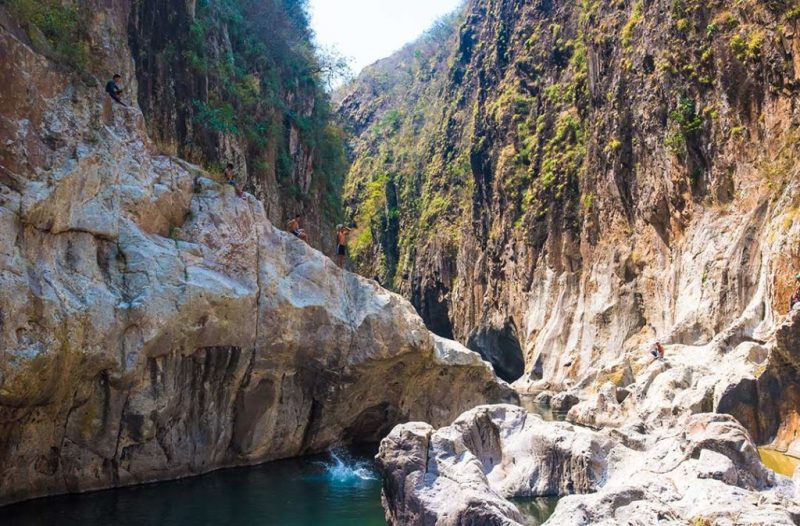 This protected area is a channel with high vertical walls that extends for approximately five kilometers, it is a winding route whose width varies between 10 and 15 meters, it has cliffs that reach 120 and 150 meters in height and in the narrowest place They get up to five meters close to each other.
This destination is essential for adventure lovers, due to its characteristics it allows activities such as: canopy or zipline, abseiling down the imposing walls of the canyon.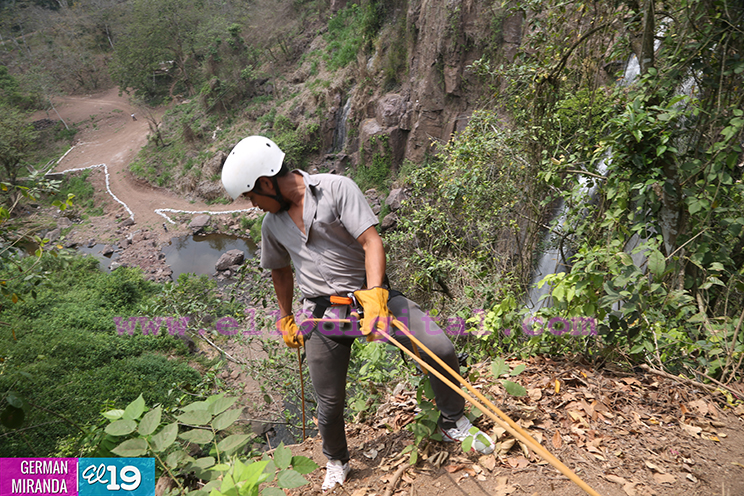 En Giant Beach, in Tola, is an ideal place for water sports, at its southern end you will find a sheltered beach where you can swim, dive, horseback ride, ski, abseil, use jets and jet skis or sail on a sailboat. An adventure full of excitement and emotion.
Other destinations that stand out are La Estanzuela, in Estelí, Cascada La Luna, in El Tuma, Matagalpa, En Flor de Pochote, in Masatepe, Masaya, among others.