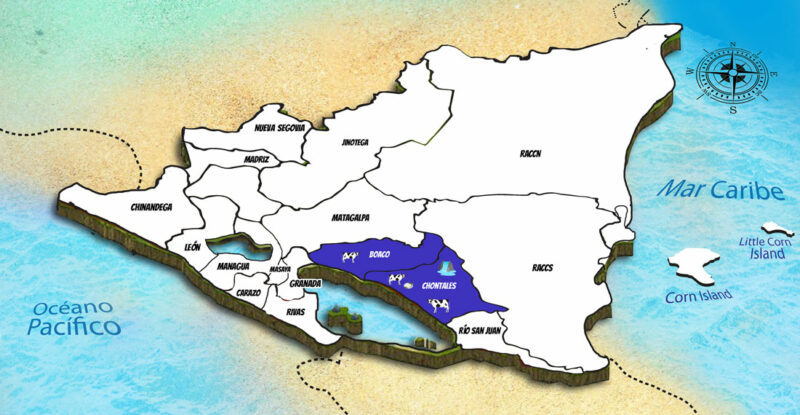 In the heart of Nicaragua, between reliefs and banks, you will enjoy Boaco and Chontales, traditional towns, crisscrossed by rivers, ravines and waterfalls, surrounded by hills that can be seen in the distance as gigantic masses of stone. Chontales, with its islets of Lake Cocibolca, hills, rivers and waterfalls, accompanied by the unique experience of learning about grain production and livestock, will make you connect with nature and life in the countryside.
Boaco, one of the main milk producers and its people stand out for being artisans of fine saddles, boots and leather girdles of excellent quality. The two-story city open to the world to show its farms, museums, viewpoints, churches and charming culture.
"The Boaqueñas and Chontaleñas Routes", ancestral paths that extend over the fragile geography of these departments that extends between the zigzagging lake area, the high peaks of the Amerrique mountain ranges and the vastness of the Caribbean plateau.
With an intricate history, and with a privileged nature, Chontales enriches the national tourist proposal with an abundant archeology, a centuries-old cattle tradition and charming natural settings that include waterfalls, mountains, monoliths, hot springs, among others. These attractions are complemented by the proven hospitality and industriousness of a people who have known how to get the best fruits of this blessed land and contribute to the construction of peace.
Boaco is a deposit of aboriginal tradition, its municipalities are enchanting settings of culture and history, with indigenous and Spanish names, pre-Columbian and modern gastronomy, it has typical dances and original songs, while the steps of the Moorish and Christian dancers resound in honor of Santiago , his employer.
On this route you can enjoy rural tourism, geotourism, agrotourism, adventure, culture and nature.
MAIN ATTRACTIONS TO VISIT
boaco
El Faro Tourist Viewpoint

Arturo Suárez Community Museum

Augusto C. Sandino Square

Silvia Diaz House of Culture

Armando Incer Private Museum

Las Lagunas Archaeological Site/ Viewpoint

Maneadero Beach and Community
Santa Matilde Farm Selva Mombacho

Andres Mendoza Central Park

Municipal Park of Teustepe
Chontal
Piedras Pintadas Archaeological Park

Aguas Buenas Archaeological Site

Pyramids of Garrobo Grande

Wetlands and hot springs of San Ignacio
BOAQUEÑAS AND CHONTALÉÑAS ROUTES MAP