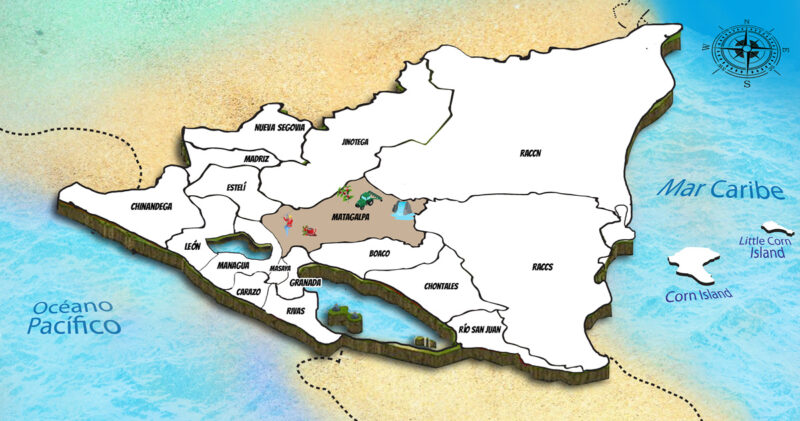 Dotted with mountains that give life to spectacular natural viewpoints, waterfalls, productive and fertile communities, the site of the liberating and comforting mist that invites you to disconnect to connect with its history of a brave people and people who forge the future and progress.
The Matagalpina Route offers national and foreign tourists the opportunity to discover and enjoy exceptional natural, historical-cultural and socioeconomic resources. It allows to know the culture of a strong, hard-working people with a big heart.
Matagalpa is made up of 13 municipalities: Darío City, Esquipulas, Matagalpa, Matiguás, Muy Muy, Rancho Grande, Río Blanco, San Dionisio, San Isidro, San Ramón, Sébaco, Terrabona and El Tuma – La Dalia.
The climate is cool and conducive to the cultivation of coffee, which characterizes both the economy and the culture and society of Matagalpa.
On this route you can enjoy rural, nature, agrotourism, ecotourism, adventure and cultural tourism.
MAIN ATTRACTIONS TO VISIT
Cerro Musún Nature Reserve, La Golondrina Waterfall.

Chaguitillo Pre-Columbian Museum and Deer Sanctuary

Laguna de San Martin School Hotel.

Bilampi Falls, Rio Blanco

Municipal Ecological Park Mirador Cerro de la Cruz, Sébaco.

Peña de la Goya viewpoint.

Guardabarranco Ecological Park, Terrabona.

Rubén Darío Birthplace Museum, Ciudad Dario.
Cerro El Arenal Nature Reserve.

Salto Santa Emilia and Ecolodge Cascada Blanca

Yasica River Falls Nature Reserve

Museum of Archeology and History Cihua Coatl, Sébaco.

The traditional textile industry, Matagalpa.

Hotel Selva Negra and Finca La Hammonia, Matagalpa.

La Golondrina Waterfall, Terrabona.
Cerro Apante Nature Reserve.

Ecological Park and Cerro El Calvario Viewpoint.

Las Nubes Agrotourism Cooperative, Matagalpa.

Birthplace House Museum Comandante Carlos Fonseca Amador Matagalpa

Museum of the Revolution, Matagalpa.

Municipal Theater and Leoncio Sáenz Museum, Matagalpa.