Granada, known as the colonial city or La Gran Sultana, located 45 kilometers from the city of Managua. It has a land area of ​​1,039.68 km2 and an approximate population of 206,009 inhabitants.
The city, founded in 1524 by the Spanish conqueror Francisco Hernández de Córdoba, has its ancestral origins in the settlement of the indigenous community of Xalteva.
It is the oldest city in Nicaragua and one of the first cities established in the American continental territory located in front of the Great Lake of Nicaragua, in which the Isletas de Granada archipelago is located with 365 islets of volcanic origin, daughters of the Mombacho.
This department is made up of four municipalities: Granada as the head, Nandaime, Diriá and Diriomo. As if guarding the city, rises the Mombacho, an extinct volcano that reaches a height of 1345 m asl
Considered the largest botanical garden in Central America for having, at its top, a vegetation of tropical cloud forest and tropical humid forest.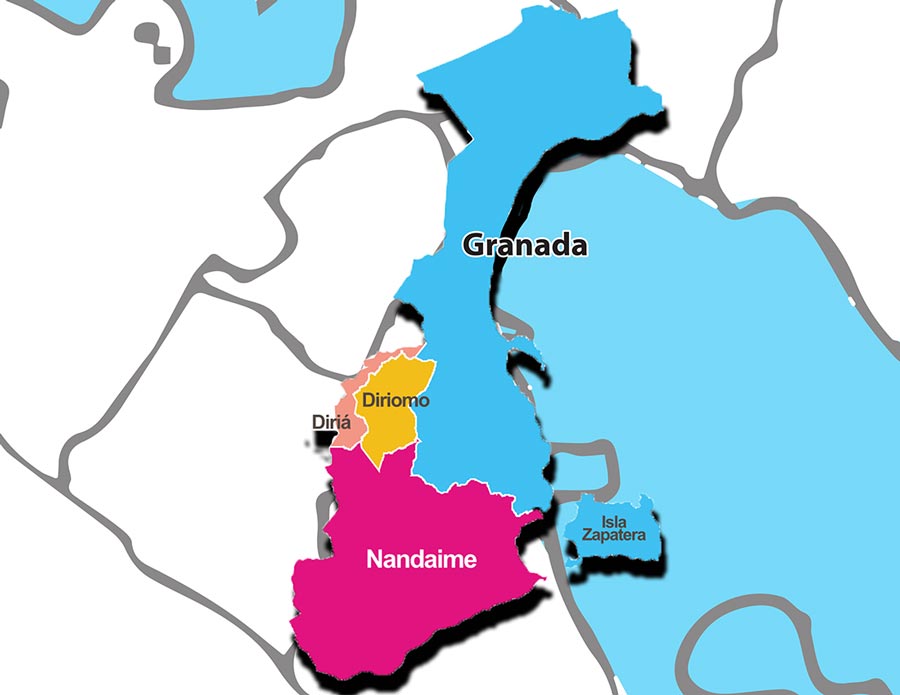 One of the natural tourist attractions of Granada is the Laguna de Apoyo, shared with the department of Masaya, it has a varied hotel and gastronomic offer, it has important protected areas: Mombacho Volcano Natural Reserveplatforms, Zapatera Archipelago National Park, Laguna de Apoyo Nature Reserve, Río Manares Nature Reserve y Mecatepe Lagoon y Domitilla, a private wildlife reserve.
Granada is made up of industrious, creative peoples with magical and artistic hands that stand out in the elaboration of handicrafts of different types, styles and materials. Cabinetmakers stand out in the production of wicker furniture, recognized for their quality nationally and internationally, in the same way it stands out for its very fine embroidery, unique in the country. Likewise, the art of shoemaking and saddlery in general.
We recommend a ride in a horse-drawn carriage driven by a charioteer, and tour the city, in the tourist center and take a ride through the islets in a boat parked at Los Chilamates dock, Cabaña Amarilla, Marina Cocibolca and Puerto Asese. It will be an unforgettable experience!
Municipalities of Granada