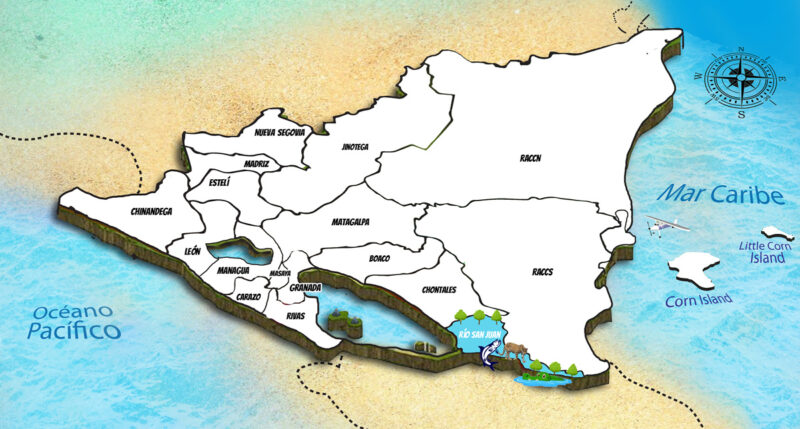 Proud of the natural majesty, history and defense of national sovereignty, the Routes of our San Juan River invite you to travel through historical sites, ethnic communities and towns that will captivate you with their fascinating routine in the middle of the jungle that can include alligators, real shad, river shrimp, countless birds, crafts and affable people.
This route includes the integral tourist development of the department of Río San Juan, starting in the municipality of San Carlos, passing through the Solentiname Archipelago, considered the cradle of Nicaraguan primitivist painting, touring El Castillo de la Inmaculada Concepción, a military fort built in colonial times in the seventeenth century, until concluding in the old city of Greytown and San Juan de Nicaragua, at the mouth of the river in the Caribbean Sea.
You can enjoy nature, adventure, historical-cultural, gastronomic, scientific tourism, among others. Its importance and tourist attraction stands out for going through part of the Indio Maíz Reserve, characterized among the best preserved natural reserves, it covers approximately 3,157 kms.2, and considered one of the richest and most diverse ecosystems in the world.
MAIN ATTRACTIONS TO VISIT
Bartola Trail in the Indio Maíz Reserve
ROUTE MAP OUR SAN JUAN RIVER