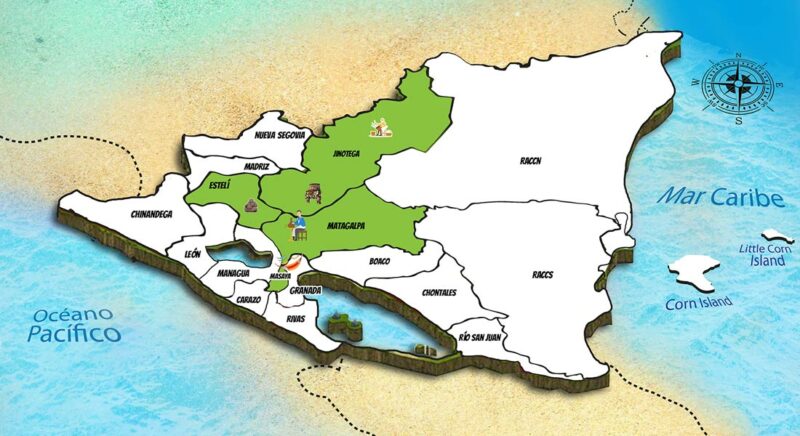 The protagonists of this route are men and women with ancestral legacy, who in their hands keep the heritage of our aborigines and who today keep the identity of a people alive.
On these routes you will find local workshops where a variety of utilitarian and artistic handicrafts are made, many of which are in international demand.
The "Ruta de los Pueblos Artesanos" takes a tour of different artisan workshops in the municipalities of Masaya, San Juan de Oriente, Matagalpa, Jinotega and San Juan de Limay, which have a large number of cultural resources that, linked together , form a reference point for innumerable traditions and customs.
It is noteworthy that the route offers its visitors an experiential tourism that offers the opportunity to live an enriching experience, since during their stay the tourist is part of both the production process and of acquiring it directly from the hands of the protagonists.
It is important to note that, as part of this route, artisan workshops for leather, wood, textiles, manila, clay, black ceramics and marble stone stand out. Likewise, the visit to attractions of natural and historical importance that, linked to the artisan workshops, are part of the enjoyment and recreation are contemplated.
The Routes of the Artisan Towns are designed to enjoy cultural and experiential tourism.
MAIN ATTRACTIONS TO VISIT
Masaya
Cultural Center Crafts Market

Alejandro Vega Matus Cultural Center

Hammock, Wood and Leather Craft Workshops

Craft Workshops for the Elaboration of Marimbas
Tourist mural Culture and Tradition
Black Ceramic Craft Workshops
ROUTE MAP OF THE ARTISAN VILLAGES