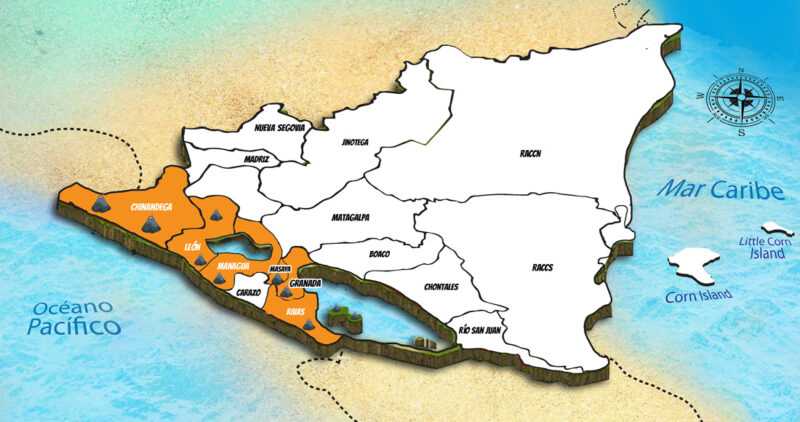 Designed for adrenaline seekers and those who like authentic experiences such as: see and feel the incandescence of the lava of an active volcano from its top; descend 728 meters on top of a table at 95 kilometers per hour; camping on the edge of an inactive volcano with sunrises and sublime landscapes; walk for hours in the jungle of a dead volcano or visit two colossi on an island in the middle of a freshwater lake. A route designed for those who want to get out of the city and traditional destinations and who want to experience new sensations getting to know nearby communities and supporting their initiatives.
This tourist route runs through the Cadena Volcanica de los Maribios, and retakes 15 volcanoes, 10 crater lagoons and 25 nature reserves, in addition to existing private wildlife reserves throughout the Pacific region of Nicaragua. It is made up of the departments of Chinandega, León, Managua, Masaya, Granada and Rivas.
It is oriented to the development of adventure tourism, ecotourism, nature tourism, health and well-being, scientific and rural community.
The Route of the Volcanoes contains, in turn, the best and widest network of tourist services and infrastructure in the country, hotels and restaurants of various categories within the National System of Tourist Quality, extensive road network, network of tour operators and other accessories for the development and enjoyment of all kinds of tourism.
In these routes you can do adventure, scientific, nature, ecotourism, among others.
MAIN ATTRACTIONS TO VISIT
Masaya Volcano National Park
ROUTE MAP OF THE VOLCANOES