The department of Río San Juan is the history of its rivers, rapids, jungle and its hardworking people, hospitable and brave artists. Explored by chiefs, conquerors, writers, travelers, and diplomats. It is a young department, it was founded in 1949, on June 13.
Río San Juan is 7,541 kms2, located in the southeastern part of the country. It is a jungle region and the rainiest of all the hydrographic basins of Nicaragua. Its main attraction is its San Juan River, also called El Desaguadero, with a 200-kilometer route, leading the waters of Lake Cocibolca to the Caribbean Sea.
Its municipalities are picturesque, with a humid tropical climate, there live fishermen, environmentalists, intellectuals, artisans, merchants, its people love their department, they are proud of its river, its flora, fauna, and its artists. The visitor integrates into its landscape, into the daily life of the municipality and becomes a San Juan.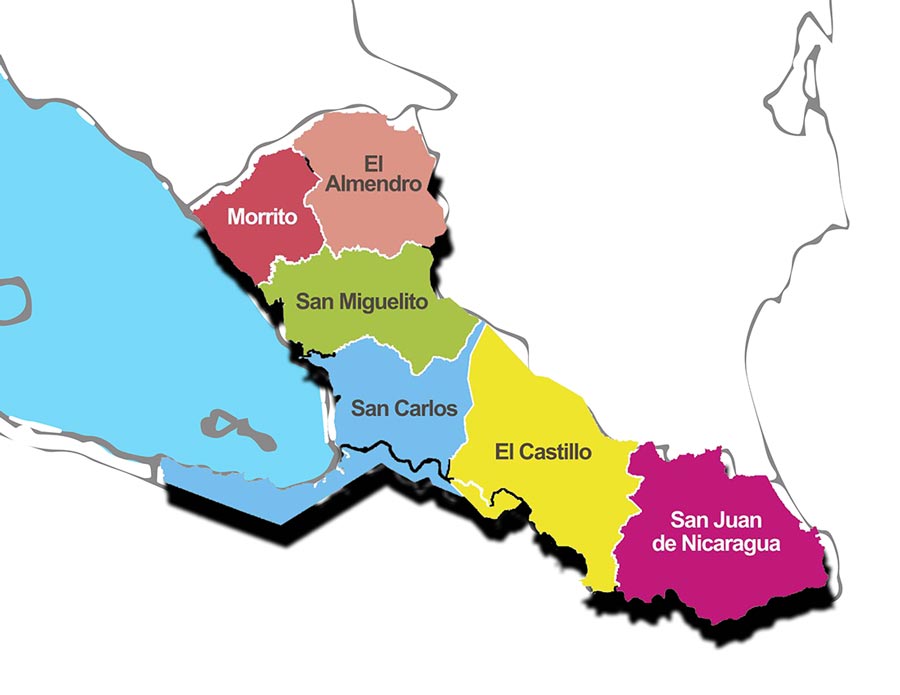 Morrito, San Miguelito, El Castillo, San Juan de Nicaragua or San Juan del Norte, where its four cemeteries are of tourist interest; El Almendro y San Carlos is its main head, each with its own history.
It is natural heritage, know it is ours!
The region includes the valleys of the Tepenaguazapa, Tule and especially San Juan rivers. The jungle vegetation, as corresponds to its high rainfall, increases from 2,000 to 6,000 mm. yearly from the end of the lake to the Caribbean Sea.
The San Juan River has witnessed many events in history, in 1977 San Carlos saw a group of young guerrillas arrive at dawn attacking the National Guard, they came from Solentiname and made history and heroism.
There are many places to visit among them: the Solentiname archipelago, a group of 36 lake islands in front of San Carlos, this picturesque setting has served as inspiration for primitivist painters, another place is Boca de Sábalos, there is fabulous fishing with tarpon. real or atlantic tarpon.
El Castillo, with its historic fortress erected by the Spanish more than 300 years ago.
Much of that splendorous atmosphere and vision has remained in the travelers' narrations, we invite you to visit it, know its geography, its nature, its Biosphere Reserve of Río San Juan, jungle and unexplored
.
Municipalities of Río de San Juan