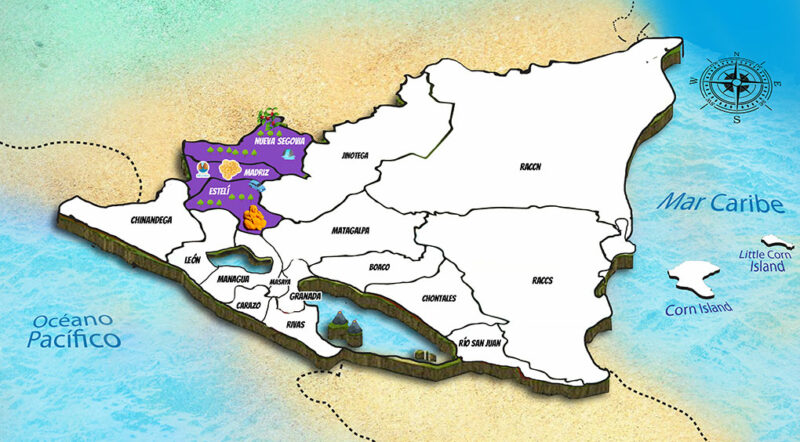 The culture and identity of Estelí, Madriz and Nueva Segovia is included in the Segovian Routes, coffee, tobacco, donuts, pine, mountains, geopark, handicrafts, indigenous and agro-tourism communities, history and defense of national sovereignty are particular terms and with potential tourists to undertake a journey in this area of ​​the country and be protagonists in first person of the best experiences in the countryside.
The Segovian Route is a very striking area due to its pleasant climate and scenic landscapes of its natural reserves.
Each department has particular tourist attractions, in Nueva Segovia there are the highest levels of elevation, such as the Mogotón hill; five of the nine municipalities of Madriz are part of the Río Coco Geopark, the first geopark declared by UNESCO in Central America; The department of Estelí, known as "El Diamante de las Segovias", is home to the city of Muralism or City three times heroic, marble artisans, the only Paleontological Museum and Mega Fauna Park, among other sites of historical, cultural and natural.
On this route you can do geotourism, rural tourism, nature, ecotourism, adventure and history.
MAIN ATTRACTIONS TO VISIT
Somoto Canyon National Monument.

Petroglyphs Painted Stones – Icalupe.

Petroglyphs Aguas Calientes.

Lagoon The Witch The Pegador.

El Chorro waterfall of the Virgin of Lourdes.

Cusmapa The Balcony of the Segovia
Stone sculptures of Don Alberto
Gutierrez-El Jalacate.

Murals of the city of Estelí.

Miraflor Protected Terrestrial Landscape

Artisans in Marmolina San Juan de Limay.

Corridor of the Gordas de Limay.

El Bosque Paleontological Museum.

Central Park of the Mega Fauna.
Canyon of the Pegados hills.

Virgin of the Stone Sanctuary.

House Museum Santa Maria de los Rivas.

Virgin of Guadalupe Grotto.

House Hacienda La Fortaleza.
San Pedro Apostol Parish Temple.

Sanctuary Lord of Miracles.