Chontales is a region of marked and beautiful natural contrasts. Its people are industrious, humble and hospitable. Its geography is marked by the portentous Serranía de Amerrique, a wide coastal area on the Great Lake of Nicaragua, by the wide lacustrine plains and the plateau that fades towards the Caribbean.
Its dairy richness and its quesillo are recognized nationally. Both are products derived from its historical livestock. The archaeological heritage of the department is abundant and is a reference to the ancient peoples that inhabited this land and that the chroniclers and historians called "chontales" (foreigners).
The Chontal bullfighting tradition is synonymous with the courage of the assemblers and sorters, and the bravery of the bulls. The mythical campisto is a celebrated character in popular culture.
Chontales also has a centuries-old mining tradition and the valued skill of its leather craftsmen.
It is a large natural space that houses an animal population of more than 300 specimens, most of which are native fauna. Because of its extensive forest, converted into Municipal Arboretum, is considered "The green lung of Juigalpa". It has games for children, auditorium, cafeteria and areas for family enjoyment.
Archaeological Museum Gregorio Aguilar Barea
It is a recognized scientific-cultural institution that exhibits the largest collection of pre-Columbian statuary in Nicaragua, ceramics, taxidermy and objects from past centuries.
Piedras Pintadas Archaeological Park
Declared Historical Heritage of the Nation in 2008. In a wide natural environment there are 157 large rocks impregnated with more than 1,500 indigenous engravings, for which it is considered "The largest pre-Columbian library in Nicaragua".
It is made up of 27 islands of striking scenic beauty, inhabited by fishing families, who offer lodging, food and transportation services. On some islands there are archaeological remains and all of them are visited by groups of native and migratory birds.
Free access
It is an extensive natural area with heights close to 1,000 meters above sea level. Because it is a climate transition zone, species of flora and fauna from a variety of environments can be observed. The visitor can find sites of archaeological, geological and cultural interest.
Entrada libre
Sheltered under a lush rainforest, there are a series of waterfalls that are a natural spectacle. Its crystal clear and cold waters are a delight for visitors, who can also observe the flora and fauna, go horseback riding, camp, and enjoy agricultural activities.
Juigalpan Community Museum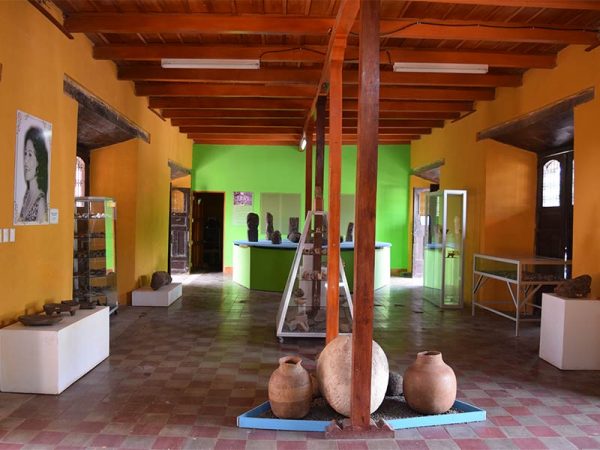 Cultural institution that exhibits a large collection of articles and belongings from different historical periods. It is housed in the Palace of Culture, a historic building of recognized reference in the region.
It permanently develops a wide cultural program, among which are the literary thursdays, a promotional space that has become a tradition in the town of Juigalpino.
Free admission